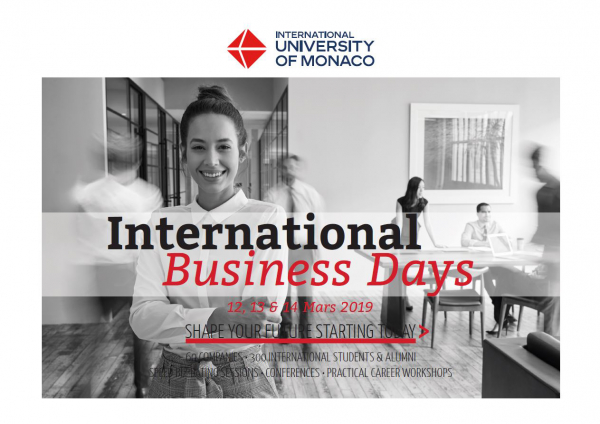 This year, IUM International Business Days will be held on 12th, 13th and 14th of March 2019.
Finalized program of the 3 days is here attached.
Program Overview: The 2019 Themes
DISCOVERING INDUSTRIES, COMPANIES AND JOBS
The global theme brings together human resources managers and top executives of international companies to discuss human challenges of companies, talent acquisition strategies and specific job markets trends in the main fields:
> Banking and Finance
> Luxury Goods, Fashion & Accessories
> Luxury Hospitality, Lifestyle & Yachting
> Marketing, Communication and Media, Events
> Sport Businesses
DISCOVERING MONACO OPPORTUNITIES
An immersion into the Monaco economy and the specificities of its job market. This theme reviews the legal constraints, visa and work permits for job seekers as well as the processes to set up a business in the Principality. This year, the theme highlights the Shipping industry in Monaco, one of the largest sectors, although unknown, whose international exposure fits particularly with the profile of IUM students and Alumni.
BRANDING AND SELLING YOUR PROFILE
These workshops are specifically designed to support the internship/ job search efforts of students and alumni.
______________________________________________________________________________________
Here are the 3 links, one for each day, where you will be able to register.
Please be careful to register only for the sessions you are really interested in. If you do register please attend your session.
Tuesday March 12th https://ibd12march.eventbrite.com Password : IBD2019
Wednesday March 13th https://ibd13march.eventbrite.com Password : IBD2019
Thursday March 14th https://ibd14march.eventbrite.com Password : IBD2019
______________________________________________________________________________________
Concerning the Recruitment & Speed Biz Dating sessions you can send your CV by email to lfourvel@inseec.com from Monday March 4th to Wednesday March 6th - specifying the company you would like to be interviewed by.
Companies will either hold:
Speed Biz Dating sessions (mini interviews 10 minutes max. that may lead to a full interview afterwards)

On Campus Recruitment (full interview for internships or full time positions)
The ones selected for interviews will get notified by email.
Please find below the list of the companies who will be meeting students:
Y.CO
Fraser
Burgess
Camper & Nicholsons
Barnes Yachts
Coccinelle
Louis Vuitton
Relevance
Style Lab
Grand Hotel du Cap Ferrat
Hyatt Regency London
Hotel Hermitage
Hotel Metropole Monte Carlo
Air Charter Service
MonacAir
Moore Stephens
Privatam
2PM
Edmond de Rotschild
CMB
CFM Indosuez
UBS
JumpWork
STS Capital
Caisse d'Epargne
Julius Bär
UBP
GfG
KPMG
PwC
Columbus Management Group
Deloitte
MCapital
Triago
UIPM
IAAF
UEFA
AS Monaco
Puma
FFF
Allianz Riviera
Nico Rosberg
Dexerto.com
OG Red Bull Team
Stakrn
Amber Lounge
Grimaldi Forum
InspireMe
Festival Television de Monte Carlo (Monaco Film Festival)
L'Orangerie
Unite
Madsen Scripps
SBM Offshore